Forex Providers and their eWallet Conditions
With our FREE eWallet-Optimizer Program you can easily make money by moving your funds online.
We reward our clients for using their Skrill and/or NETELLER accounts.
We pay cashback (eWO Bonus) to your eWallet account every month between the 10th and the 20th for the previous month.
The more you transfer using your Skrill Forex or NETELLER Forex accounts, the more you earn.
Start Earning
We offer two eWallets to choose from, Skrill (former Moneybookers) and NETELLER.
Skrill Forex Trading makes sense if the broker allows funding and withdrawals free of charge more than NETELLER, and NETELLER Forex Trading vice-verse. However we have noticed that most brokers have the same conditions for the two eWallets.
We are promoting eWallets like Skrill and NETELLER since 2010 already and have become the biggest and most trusted ambassador worldwide.
Please feel free to check our Facebook gallery for references and last years cashback transfers and ask around – your friends might benefit from our monthly eWallet Forex Cashback for years already.
eWO Forex Bonus with Skrill
At Skrill, you can earn monthly 0.3% Skrill Bonus for all your outgoing Forex Transfers.
You can either join our Skrill Forex Cashback Program as new or existing Skrill customer. Please proceed by following our Skrill signup instructions.
eWO Forex Bonus with NETELLER
At NETELLER, there is no signup bonus, but the monthly Bonus for NETELLER goes up to 1% of all your transfers to Forex Brokers.
Most of our Forex clients prefer NETELLER, not just because of the much higher monthly Forex Cashback, but also because of the faster support and easier account handling.
To join our NETELLER Forex Cashback Program, please proceed by following our NETELLER signup instructions.
General Forex Cashback Rules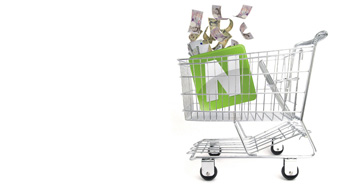 Most importantly, please make sure to deposit and withdraw in the currency your Skrill and/or NETELLER account is registered in.
If you need to switch your currency, please check our guides for Skrill currency switch and NETELLER currency switch or contact us and we will be happy to guide you through the process.
Forex sites usually do not have any limits for deposits or withdraws.
Different to Poker or Sports Betting sites, many Forex Brokers charge for deposits and withdrawals but there are enough which do not charge (at least 20-30 brokers in the market). They will absorb the fees for you but they expect some trading activity in exchange.
There are no fixed rules for most sites as to how much trading activity has to happen. It depends on each broker but daily withdrawals should be avoided, even if trading was performed. You should rather use several brokers and use your deposited funds for some time and trading activity.
The typical Skrill and NETELLER withdraw takes around three business days in average. Some brokers are very fast and process within 1-2 hours every time and some others do not execute right away and it takes emails and contacting the live chat to get it done.
It therefore makes sense to focus on the faster ones but also to give them more trading to keep them happy.
We recommend to use more than one Forex Broker to be able to hedge positions against each other and to profit from the best conditions when it comes to free deposits and withdrawals.
Forex Brokers offering Skrill and NETELLER as payment method

Please check the following table which Forex Broker offer Skrill and/or NETELLER as a payment method and their conditions. This list is not conclusive and no responsibility can be taken for the correctness of the details provided.
If you should spot any errors or out-dated information, please leave a comment or contact us . This is highly appreciated since we always try to keep the list as accurate as possible.
Withdrawals are free at most Forex providers, but please check the provided link that leads you to the current transfer fee overview of the specific Forex Broker and let us know if any information might be out-dated.
Please note that you earn our monthly Forex Cashback on all of your transfers to all Forex Brokers (even if not yet listed here).
Last updated: February, 2020.


Forex Broker
(Link to payment details)

Skrill

NETELLER
Availability
Transfer Limits
Deposit Fees
Availability
Transfer Limits
Deposit Fees
1BillionForex
4%
4%
AAAFx
2.9% + 0.25€
 
3.4% + 0.29 USD
Abshire-Smith
free
free
AccentForex
$10,000
ACFX
$5,000
free
$10,000
free
ACM Gold
ActivTrades
free
free
Admiral Markets
$5,000
free
$5,000
free
AGEA
$7
$7
Alpari NZ
0.9% + 0.29€
EUR: 2.5%
USD: 4.0%
AmigaFX
$5,000
up to $25
$10,000
up to $25
AnnexFx
free
AssetsFX
AxiTrader
free
free
Blackwell Global
free
free
BMFN Europe
free
$5,000
3.9%
Bulbrokers
CAPPROFX
$5,000
free
$5,000
free
Core Liquidity Markets
unlimited
free
unlimited
free
Darwinex
$5,000
free
$5,000
1%
DeltaStock
unlimited
free
eToro
$5,000
free
$10,000
free
EXNESS
             $2,000
free
FIBO Group Holdings
2.9%
FinFX-Pro
3.9% + 0.29€
Forex4you
unlimited
free
unlimited
free
Forex Time (FXTM)
free
free
FXChoice
4%
4%
FXDD Malta
$10,000
free
$10,000
free
FXCC
 
free
free
FXGlory
free
free
Forex Global Market (FXGM)
FreshForex
free
 
 2.5%
FxNet
2.5% + $0.35
3.9%
FXOptimax
3.9% + $0.5
2.6%
FXOpen
2.29% + $0.22
2.5% + 0.29$
FXPrimus
FxPro
free
free
GAINSY
GCI Financial
free
Grand Capital
1.9%
4%
Hirose Financial UK
HotForex
free
free
ICM – iTrade Capital Markets
free
ICM Capital
IKON Group
InstaForex
free
free
IronFX
$5,000
free
$5,000
1% (max. 30 USD)
Yadix
JustForex
unlimited
free
unlimited
free
LiteForex
3.5% + 0.29€
Nord FX
free
free
NSFX
free
OctaFX
free
free
OloFX
free
Orbex
free
free
Pacific Financial Derivatives (PFD)
 1.9% + 0.29€
 3.2% + $0.29
PaxForex
up to 3.9% + $0.38
up to 3.7% + $0.29
Pepperstone
free
free
PCM Brokers
1.9% + 0.29€
Plus500
free
Profiforex
free
 
free
RoboForex
unlimited
1.99%
unlimited
free
Sterling Gent Trading
up to 1.9% + 0.29€
free
SVSFX
free
4.4%
TeleTrade
ThinkMarkets
free
free
Trader's Way
10,000€
1.9%
 
1.9-3.9%
Traders Trust
 up to 2%
 4%
Valutrades
 2%
Windsor Brokers
$5,000
2.5%
$5,000
2.5%
XGLOBAL Markets
 free
free
XM
free
free
Yadix
$25,000
free
$25,000
 free
While NETELLER does also provide a
list of Forex Brokers offer NETELLER
as payment method, Skrill does not offer such a list and has
only few information for Forex Traders
public.
Get started to benefit of our monthly Forex Cashback Program
Please proceed by following our instructions how to join us.
If you have any questions about the Forex Cashback you can earn with us, please do not hesitate to contact us .
We are here to help you.