MuchBetter Cashback Program by eWO
As one of the first official affiliates for MuchBetter, we are happy to offer you a great deal with lots of benefits to improve your MuchBetter experience even more. In combination with the eWO Bonus Program, you will be able to earn one of the highest cashback for your deposits; you have access to our eWO Loyalty Program, prioritized support, and of course, the eWO MuchBetter Affiliate Program. Bring your MuchBetter account to the next level in combination with us.
On this page, we have gathered all information about our bonus program and especially how your MuchBetter Bonus is calculated as it is a bit different compared to other eWallet providers. However, mostly this unique system is one of the reasons that MuchBetter became popular in a short period, both with merchants as well as their clients.
Let's jump right into the action, and if anything is unclear, please do not hesitate to contact us at any time.
The eWO Support team will be always happy to help.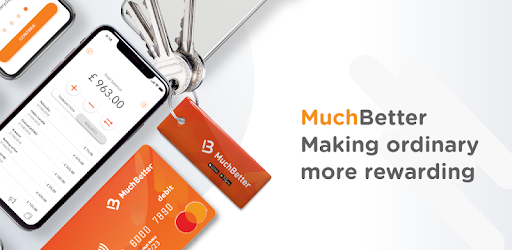 0.30% eWO Cashback.


Join the eWO Loyalty Program.


Access to eWO MuchBetter Affiliate Program.


FREE p2p transfers.


FREE MasterCard after verification.


Very low currency exchange fees.


Availability in popular merchants.


Personal eWO live-chat Support.
The following table gives you a quick comparison about the benefits for regular MuchBetter clients and for MuchBetter clients with eWallet-Optimizer.
As you can see, there are some great additional benefits which will help you to increase your earnings. No matter if you are a poker player, sports better, if you are working with forex or binary or enjoy some friendly casino games or slots, you will be rewarded for all your deposits made to any merchant that offers MuchBetter as a payment option.
Also, you will automatically join the eWO Loyalty Program, which comes with even more benefits.
Cashback

eWO Loyalty Program

Weekly Bonus Payments

Live-Chat Support

FREE P2P Transfer

FREE MuchBetter MasterCard
Regular MuchBetter Clients
Cashback

Cashback

Weekly Bonus Payments

Live-Chat Support

FREE P2P Transfer

FREE MuchBetter MasterCard
MuchBetter Clients with eWO

0.30%*

(usually every Thursday or Friday)
* The MuchBetter Cashback is calculated on the Net-Deposit model.

MuchBetter Cashback Calculation
As already mentioned, the calculation for the MuchBetter Cashback is a bit different compared to some other eWallet providers. Therefore, we want to give you some more details and show you an example calculation so that you are fully aware of how exactly it does work.
This model, even though it is unusual, is one of the reasons that MuchBetter is becoming more and more popular because it is a fair system for all parties involved. Merchants like it a lot too, which will also help to get more significant merchants quickly onboard and convince them that MuchBetter is a payment option everyone should have.
Net-Deposit Model – Calculation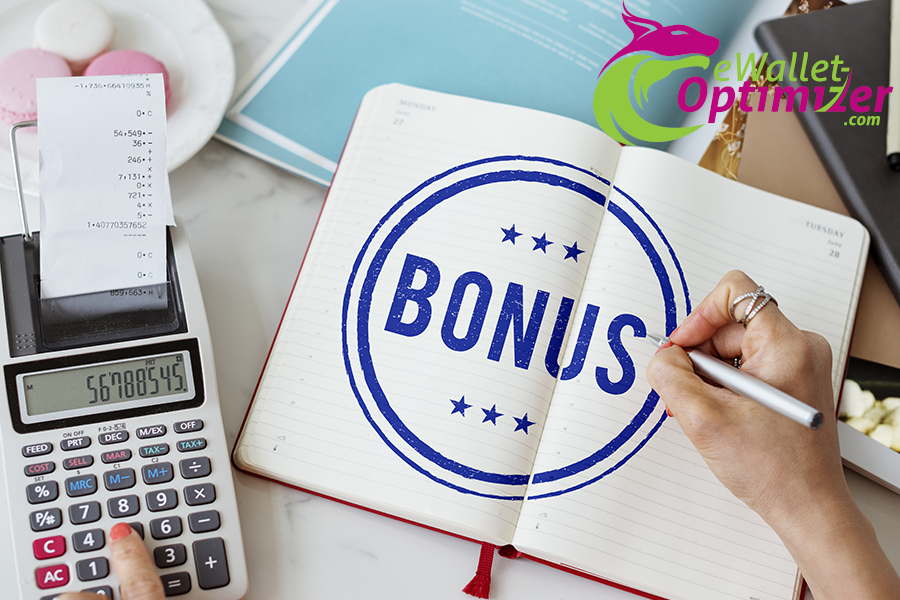 Net-deposits mean that if you make deposits of 50,000 EUR at the beginning of a month and withdraws of 10,000 EUR by the end of the month, you will receive 0.30% of the remaining net-amount of 40,000 EUR in this example:
0.30% of 40,000 EUR = 120 EUR eWO Bonus.
Please note that this is calculated per merchant per calendar month. So, if you deposit 50,000 EUR at Merchant X, withdrawal 10,000 EUR later the month from that Merchant X, and you deposit 20,000 EUR to another Merchant Y, the net-deposit amount is (50,000 EUR – 10,000 EUR) + 20,000 EUR. It can never be negative as it is not carried over into the next month.
Also, the Net-deposit amount per merchant can never be smaller than 0.
Monthly MuchBetter Bonus Program
Every customer will earn 0.30% MuchBetter Bonus. There is no limit for the cashback you can earn. All deposits will be rewarded, no matter how much you transfer during a month.
Your 0.30% MuchBetter bonus of your Net-Deposits from your MuchBetter account to merchants and will be paid every month until the 20th directly into your MuchBetter account. Don't miss this chance and sign-up with us today.
Net-Deposits with your MuchBetter Account

0 – Unlimited
Monthly eWO MuchBetter Cashback

0.30%
There is a good chance that the deal will be updated soon and more tiers with higher percentages added. We will keep you posted about any progress, of course.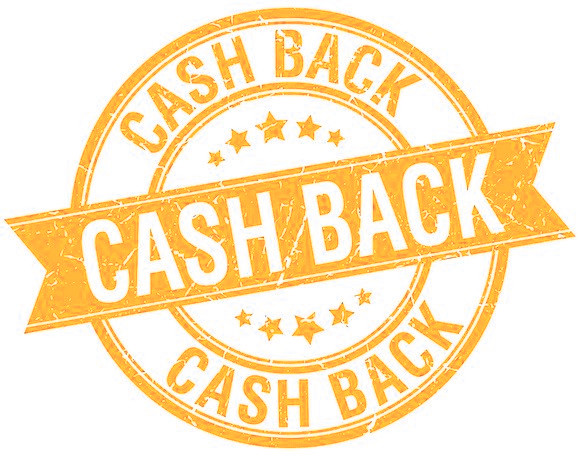 Start to benefit with our MuchBetter Cashback Program
It is safe to say that MuchBetter in combination with our eWO Bonus Program can reach its fully potential and help you to get easily rewarded for something you regularly do anyway. Making a deposit to a merchant!
Together with the option to transfer money to your friends and family for free and also be able to order a completely free MasterCard (EEA Region only). Compared to other eWallet providers, the fees are also on a superficial level. Especially worth mentioning the currency conversion fee of only 0.99%, which is the lowest on the market.
All you need to do to join the eWO Bonus Program is to use our sign-up link and follow the registration process. Your account will be ready within minutes.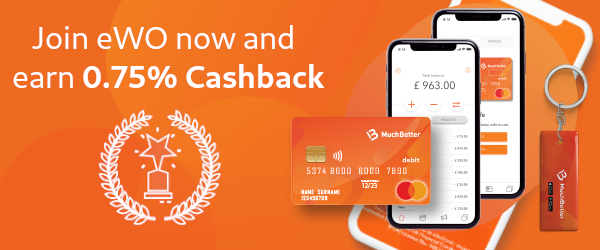 For any further questions about the MuchBetter eWO Cashback Program or MuchBetter in general, please contact us . Please also get in touch with us if you want to become an eWO Partner and start referring clients on your own. We are happy to get you started then with your personal MuchBetter link.