NETELLER Bitcoin – Quick Guide
NETELLER Bitcoin – the perfect combination to buy/sell coins and earn money with it.
Bitcoin is becoming a more and more important part for many people and therefore we want to show you how you can also use your NETELLER account in combination with Bitcoin and how you can benefit from this.
With our free NETELLER bonus program you can use your NETELLER account to buy Bitcoin and earn cashback buy using our partner Bitpanda for this.
Let's take a look at some more details about the different processes.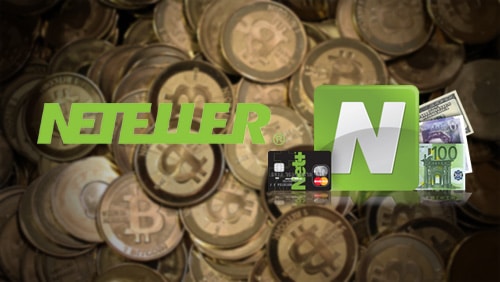 NETELLER Bitcoin – How to deposit Bitcoins to NETELLER
Uploading Bitcoins to your NETELLER account is a fast and easy process. We will show you how you can upload up to 100 EUR in Bitcoin to your account and start using it directly.
Choose deposit option
Click the "Money In" button in the left-handed menu in your account overview. A new window will appear showing you all available deposit options for your account. Choose "Bitcoin" to move forward with the process.
Choose your deposit amount
During the next step you have to enter the amount you would like to deposit. The standard limit is 3,600 EUR with a fee of 1%, but the limit can also vary depending on your country of residence or your verification status. If your account is not fully verified yet we highly recommend to verify your account first to increase your limits and to also enjoy our free silver VIP upgrade. Just follow our NETELLER verification guide  to verify your account within 1 business day and request your free NETELLER silver VIP upgrade afterwards.
Transfer from your Bitcoin wallet
You will now redirected to the bitpay payment processing page where you receive all information to finish the process. You can use the shown barcode or simply use the "copy payment URL" link to copy the link which you can use in your Bitcoin wallet to make the transfer. Please make sure to enter the correct Bitcoin amount to avoid any problems with the process.
Wait for the payment to be processed
Once you made the transfer the window disappears and you will be redirected to your NETELLER account overview page. It can take from minutes up to 1 business day for the payment to be available in your NETELLER account, but usually it will not take longer than a few hours. The status of your payment is shown in your transaction history as "pending" now until it was fully processed.
Please note, you will not be able to withdraw your Bitcoin deposit with your NETELLER MasterCard or withdraw it directly to your bank account. You can only use it to deposit to merchants like poker sites, bookmakers, casino sites etc.
NETELLER Bitcoin – How to buy Bitcoins with NETELLER
You have two options to buy Bitcoins with your NETELLER account. You can either buy them directly with NETELLER account or use Bitpanda which is one of Europas strongest and most reliable Bitcoin trading platform.
Let's have a quick look at both available options.
Buy directly with NETELLER
The procedure is really simple and easy to handle within a few minutes.
Log in to your NETELLER account and choose the Crypto tab from the left hand menu.
Enter the amount you want to exchange and choose your preferred cryptocurrency. You will receive all information including fees and the final amount shown during the process and you can complete the process by just clicking "Complete".
After the exchange is confirmed your cryptocurrency balance will appear in 1 – 2 seconds and you can check your balance on your account overview.
Just keep in mind, that service is currently not available to all countries. In case you cannot see the "Crypto" tab in the menu, the feature was not activated for you country. However, there is a good chance that it might be activated at a later point.
For more details, information and an in-depth review just visit our NETELLER Crypto Review and contact us for any questions and check out the NETELLER Cryptocurrency Terms of Use.
Buy Bitcoins with Bitpanda
We are happy to have them as a partner at our side. Therefore we highly recommend to create an account there and use it to buy your Bitcoins. Another major benefit for you is that Bitpanda participates in our cashback program and you will receive our full bonus for all coins you buy.
Just make sure to fully verify your NETELLER account as well as your Bitpanda account before you start to increase all your limits and remove all restrictions. Once your NETELLER account is verified we can also upgrade your account to silver VIP for free which will increase your limits to the highest possible of 50,000 USD / transaction.
Keep in mind that buying Bitcoins with NETELLER is limited to mostly European countries, whereas selling Bitcoin for NETELLER funds is possible worldwide.
Let's have a look at the process to show you how easily you can buy your first coins and earn cashback. Please keep in mind that your transactions also count for the NETELLER VIP status. So, besides earning cashback you can also increase your VIP status. We are also happy to check if we can upgrade your NETELLER account to silver VIP. Just fill out our VIP form and we will try to upgrade you for free.
Hit the "deposit" button at the top of the page
Once you have clicked the deposit button you can choose which of your currency accounts you want to use to deposit your funds to.
Choose your preferred payment option
The next step will show you all available payment options for your account. Just choose "NETELLER" to move on with the process and enter the amount you want to deposit.

Summary & Confirmation
Bitpanda will show you the overview about this transactions including the fee for your deposit. Please keep in mind, that you will also receive our 0.3% cashback for all deposits.

Phone or SMS Verification
The last step is another verification step to increase the security level even more. You can choose to get a phone call to your phone (the number needs to be provided during the verification process) or a text message. So, no one can use your Bitpanda account without also having your phone which will protect you even if your password gets stolen for example.

NETELLER account details
The final step is to enter your NETELLER account details and confirm the transaction one last time. Bitpanda will then process the payment and it should be available in your account within minutes usually.
Cryptocurrencies have become a really important factor for many people and we are sure the acceptance and popularity will even more increase. Bitpanda offers you a safe and secure way to start your way into the crypto market and in combination with our cashback program you can benefit even more and earn our monthly bonus or become a NETELLER silver VIP member with us.
NETELLER Bitcoin – How to sell Bitcoins with Bitpanda
Bitpanda is not only a great platform to buy coins, you can also use it to sell your coins. Like buying this process is also fast and simple and within minutes you can turn your coins into cash.
Take a look at our quick overview to get a feeling for the process.
Check the current rates 
The dashboard gives you an overview about the current rate you can sell your coins for. Please keep in mind that this is the current market price and it can change depending on several factors.
Click the "Sell" button of  the Coin you want to sell
Once you hit the sell button you will receive an overview of your available wallets where after you will receive your money after the transfer. Of course you cannot sell LTC only. Bitpanda offers you the chance to sell a lot of different coins and you can just choose your preferred one.

Overview and confirmation
The next step will show you an overview about the coins you have chosen, the currency wallet where you want to receive the money and the amount of coins you want to sell including the converted amount in your currency. Click the agree button to accept the contract for this transaction and continue with "Sell now".

Phone or SMS Verification
The last step is another verification step to increase the security level even more. You can choose to get a phone call to your phone (the number needs to be provided during the verification process) or a text message. So, no one can use your Bitpanda account without also having your phone which will protect you even if your password gets stolen for example.
Receive the money in your account
That's it. Bitpanda takes care of the transfer now and you will receive the payment for your coins directly into your Bitpanda wallet where you can choose to withdraw your funds to your NETELLER account or use them to buy Bitcoin, Litecoin etc.
As you can see, the process is fast and easy and with Bitpanda you have a trustworthy and reliable partner at your site where you can be sure that your funds are safe at any time.
If you have any questions about this, please do not hesitate to contact us . We are happy to help.
NETELLER Bitcoin – Benefit with eWO
Bitcoin becomes more and more important and you can already use it for a lot of things. Therefore it is even more important to lower your costs by using it combined with out great NETELLER bonus program to get the most out of it.
Make sure to join our NETELLER bonus program to earn 0.3% for all Bitcoins you buy at Bitpanda and to increase your VIP level by reaching the next volume tier.
Besides that you will have one of the strongest partners at your side and will try our best to help with all issues related to your NETELLER or Bitpanda account.