LuxonPay is one of the newer eWallet providers, but is becoming more and more popular during the past four years. Established in 2018, LuxonPay keeps growing and their customer base is growing rapidly too. With our detailed review we want to give you a quick and compact overview about the most important facts like deposit and withdrawal options, the registration process, their VIP Program and much more.


We also show you all benefits of their VIP system and how to join the eWO Loyalty program with your LuxonPay account.
LuxonPay & eWO – Benefits
Besides free money transfers with your account, what most likely is one of the most important benefits, you will also enjoy our additional support. Through our useful contacts, we can help you to solve most issues or at least speed up the processes for you.
Please contact us at any time if you have any questions or if you need help with anything. Our team will take care of you as fast as possible then.

No p2p fees.


Free Deposits & Withdrawals.


Instant Currency Exchange (10 global currencies).


Live Event POS.


24/7 Customer support.


Luxon Pay VIP Program.


Crypto deposit with Coinrivet.


Not available on all Merchants yet.
eWO Bonus program.

 Additional & personal Support – 365 days a year.
Luxon Pay Screenshots (click to enlarge)
Luxon Pay Facts & History
LuxonPay has been established in 2018 and keeps growing day by day. Compared to Skrill, NETELLER and ecoPayz they are a real young company, but due to their perfectly developed product they are a real alternative on the eWallet market.
Luxon Pay is fully FCA regulated which makes sure that your funds are safe. They offer their services in more than 120 countries and all main deposits options are available. Especially for poker players, Luxon Pay might be interesting as they are focusing a bit more on this sector. However, they are constantly working to add more merchants to attract a wide range of customers.
We are sure that Luxon Pay will keep growing and strengthen their position at the eWallet market.
Registering your new Luxon Pay account will only take a few minutes. Follow our quick 3-step guide to set it up fast and easy.
Three steps to register your new LuxonPay account
Make sure to use our Luxon signup link.
You will be forwarded to the LuxonPay website where you need to enter your mail address, password and your personal details.
Get in touch with us and send us your account details. We will check the correct tracking then.
After these steps your account is almost ready. The last step is the verification process, which is necessary to remove all restrictions and enjoy all our benefits.
The verification will make sure that you can enjoy the highest limits and no restrictions to your Luxon Pay account apply. Therefore we highly recommend to handle it directly after your account registration
Documents to verify your account
The following documents are needed to fully verify your account:
A valid government-issued photo ID, such as a passport or driving licence (birth certificates are not allowed).
Proof of address, such as a utility bill or bank statement, the document must clearly state your name and address and must be dated within the last six months.
Verifying your account will allow you to get higher limits and enhanced features. To make a deposit or receive funds you will also need to verify your account.
Luxon Pay Review – VIP Program
Luxon Pay just recently started their VIP program and kept it as simple as possible. The following overview shows you the the requirements for each for the 3 available levels:
Luxon Pay Classic VIP – up to 9,999 EUR in merchant deposits needed within a quarter.
Luxon Pay Premium VIP – 10,000 to 29,999 EUR in merchant deposits needed within a quarter
Luxon Pay Noir VIP – more than 30,000 EUR in merchant deposits needed within a quarter.
Even with the classic level you will enjoy great benefits like free p2p transfers and free deposits, but by reaching higher tiers you will also enjoy free withdrawals to your bank account and lower currency conversion fees of only 0.5%.
Please also keep in mind that you have to fully verify your account before you can join any of the 3 Luxonpay VIP levels.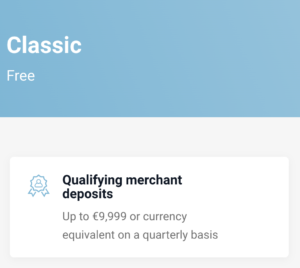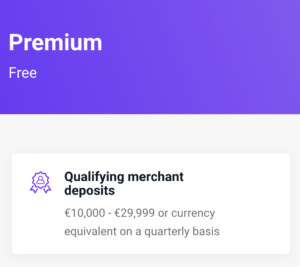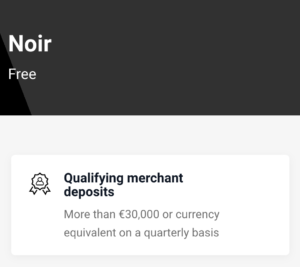 Security is an important topic and especially eWallet customers need to make sure that their funds are safe all the time. Therefore, most of the eWallet providers added an additional security feature called Two-step Authentication (2FA). Luxonpay does not make an exception here and also offers additional security features to protect your money
Two-Step Authentication (2FA)
To increase security on your account you are able to set either SMS or Google Authenticator as 2FA. Please go to your account, select 'Security' and 2 Factor Authentication to enable 2FA and customise your settings to your needs.
It is important to take care of that to not risk loosing your funds easily.
It has become more and more important for clients to manage their funds with their mobile devices. So providing an easy to handle and comfortable mobile app is important for all companies. Therefore LuxonPay also offers their own mobile app for iOS and Android devices..
The mobile app allows you to manage your digital wallet account and send and receive your funds to anyone, anywhere, at any time. It can also be used to verify your account and upload all documents directly through the mobile app.
The free app is available on Android and iOS platforms and can be found in the Apple app store or Google Play store.
LuxonPay Review – Deposit Options
Here are some of the most popular deposit options available for LuxonPay customers:
Please keep in mind that your available options vary depending on your country of residence. To check a specific country you can check the Luxon Pay Deposit page and enter your preferred country. You will then find a more personalized overview.
LuxonPay Review – Withdrawal Options
Here are some of the most popular withdrawal options available for LuxonPay customers:
Please keep in mind that your available options vary depending on your country of residence. You also have to make one successful deposit with a payment option before it can be used as withdrawal option for your money.
A wide range of merchants offer Luxon Pay as payment option to their clients already. However, due to local regulations it might be not available to customers from all countries at all merchants yet. We therefore recommend to check your preferred merchants if you have Luxon Pay as payment option there.
To still give you a few more details the following overview will show you some of the bigger and more popular merchants where it is available:
Support, Help & Live Chat
Unlike some other providers, Luxon Pay offers a great and fast support. The feedback about their support team you can find only is amazing and most request will be handled really fast.
If you have any questions regarding Luxon Pay, please do not hesitate to contact us . We are here to help!

Where does LuxonPay provide service?
LuxonPay is available to customers from most countries without any restrictions. However, there are still a few clients which will not be able to use their services.
The following table will show you exactly from which countries you are not allowed to open an account.
Non-Serviced Countries
Albania

Belarus

Bosnia

Burma

Central African Republic

Democratic Republic of Congo

Democratic Peoples Republic of Korea

Cote D'Ivoire
Crimea region of Ukraine

Croatia

Cuba

Iran

Iraq

Kosovo

Lebanon

Liberia
Libya

Macedonia

Paletinian Territory

Serbia

Somalia

Sudan

South Sudan

Syria
USA

Venezuela

Yemen

Zimbabwe
If you have any questions regarding Luxon Pay services and restricted countries or about Luxon Pay in general,  please do not hesitate to contact us .