For general issues with your LuxonPay account you have several options to contact the LuxonPay Support Team fast and easy.
You can use their live chat which is available 24/7, send them an email and also browse through their detailed FAQ Section where you might already find most answers you are looking for.
For mail contact with the LuxonPay Support Team, please make sure to use the mail address you registered your account with. Through this they will be able to confirm your identity and help to sort out your issues faster.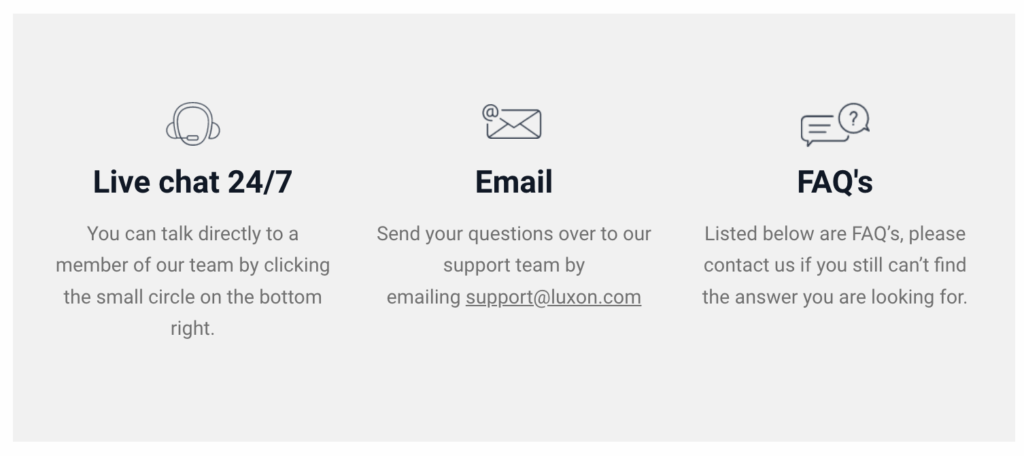 LuxonPay Support Live Chat
The easiest and fastest way to contact the support is through their Live Chat. The Live Chat is available 24/7 and usually a support agent is reachable within a few minutes.
You can talk directly to a member of their team by clicking the small circle on the bottom right. The live chat popup will open and ask you for your name and mail address to validate your identity.
Support Email & FAQ Section
To contact LuxonPay Support via email, please your mail to [email protected]. Their Support Team will get back to you as fast as possible.
LuxonPay also provides a really detailed FAQ Section where you check first before sending a mail. Especially for more general questions there is a good chance that you will find your answer there already.
Feel free to also contact us directly in case there is anything you need to know. We will try our best to help if possible.

For any questions about your LuxonPay account, the LuxonPay support or any other general LuxonPay issue, feel free to contact us at anytime. Our professional support team is available 365 days a year and always here to help.
Check our eWO Contact page to find all available contact options to reach out to us.