The NETELLER Affiliate partner program is similar to the Skrill Affiliate program. Affiliates can apply to become NETELLER Affiliates to receive a lifetime revenue share depending on referred clients depositing activities.
Becoming an affiliate, in general, is a great way to build a passive income and start earning a lot of money. With this page, we want to give you a quick overview of the NETELLER Affiliate Program.
So let's have a look at some more details.
NETELLER Affiliate – How it works
Referring to NETELLER Affiliate Terms & Conditions, affiliates can earn 20% revenue share for lifetime period.
The Skrill program offers a different revenue model which does not give lifetime earnings.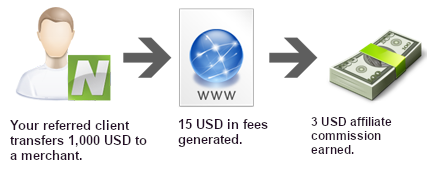 A NETELLER Affiliate can check his affiliate earnings within the NETELLER Affiliate tool where all data are updated daily and detailed presented.
Please keep in mind, there is no commission on the full transfer volume, only for the fees generated.
As you can see, there is a lot of great value in the affiliate program, and we will help our eWO Partner to even maximize their profits more and offer the best service to all their clients.
For any further questions, please use the following contact form to get in touch with us.
Contact us via Telegram, Facebook Messenger or email
---