MiFinity is not new to the eWallet market, but they just recently became more popular after announcing their new affiliate system and with this review we want to give you a quick overview about the most imporant facts.
This page will also be updated frequently to always have an up-to-date review to easily find all details about MiFinity.


We also show you  how to join the eWO Loyalty program with your MiFinity account, which deposit options you can use and much more details.
MiFinity & eWO – Benefits
Besides a free deposit option through SEPA Bank Transfer (EU and UK clients only), you will also enjoy our additional support. Our contacts will help to get your issues sorted out quickly or help to get in touch with the person who can help to sort it out. As MiFinity just started to launch their affiliate program and we became of their first and biggest affiliates, you can also expect many more benefits to come during the next months.
We will make sure that you will always enjoy the best conditions with your eWO account.
Please contact us at any time if you have any questions or if you need help with anything. Our support team will take care of you as fast as possible then.

Low p2p fees.


Free Deposits with SEPA Bank Transfer.


24/7 Customer support.


Crypto deposit with most popular currencies.
eWO Bonus program.

 Additional & personal Support – 365 days a year.
MiFinity Screenshots (click to enlarge)
The MiFinity company is licensed by the FCA and certified by Union Pay International to issue pre-paid physical cards, provide acquiring services and support MoneyExpress remittance program. They have more than 18 years of experience in the eWallet market and provide a growing network of global partners.
Their mission is to become the market leader in the online payment market, and their growing customer, merchant, and partner base is proof that this goal become more and more reachable. With their products they are interesting to different businesses, merchants and also consumers. MiFinity's headquarter is in Belfast (Ireland), but they also have regional offices in Dublin and Malta.
Their eWallet, which supports world-wide fast and easy money transfer, is their most important and core products.
MiFinity is also working with the following sectors:
Travel,
Retail Banking,
Airlines,
Insurance,
Gaming,
Construction,
Education.
MiFinity Review – Registration
MiFinity is doing a great of with their registration process. It is fast, easy and done within a few minutes only.
Register your new MiFinity account with eWO
Make sure to clear your browser cookies and use the eWO MiFinity Registration link to connect your account with us,
Enter your mail address and choose a secure and unique password,
Login to your MiFinity account,
Select your Country of Residence and account currency,
Enter your personal and address details,
Set your security questions,
Enter your 6-digit verification code you received by SMS.
Enjoy your new MyFinity eWallet Account.
The MiFinity registration process is now finished and your account almost ready. However, to remove all restrictions and activate all features like the virtual IBAN, multi-currency accounts and much more, you just have to go through the MiFinity Verification Process first.
MiFinity Review – Verification
You can use an unverified MiFinity account, but you will have many restrictions and you will not be able to use all features of your account. Therefore, we highly recommend to directly verify your account after verification. Only a few documents are needed to successfully finish the process.
By starting the verification process, you will see a popup where you can decide if you want to move forward with your computer (webcam required) or if you want to use your smartphone to finish your verification. No matter if you use your phone or computer, the steps will be pretty much identical.
Step-by-Step MiFinity Verification Guide with Webcam or Smartphone
Login to your MiFinity account and click the verification banner,
Choose your verification method (mobile or webcam),
Take a photo of your passport and a selfie of your face,
Verification completed and will be done within 1-2 days.
Once your MiFinity verification was confirmed, the restrictions from your account will be removed and you can enjoy all benefits, including higher spending limits.
As mentioned before, you can also verify by just uploading your documents without using a webcam or your smartphone.
This option you can find by clicking on your name in the upper right corner of your account overview and choose "Upload Documents".
Protect your account and with this your money is essential to all customers. MiFinty is using the latest anti-fraud and security tools to keep your account safe. Sensitive information are always protected and none of your financial details will be shared with any other parties.
Does MiFinity offer additional protection like 2FA (2-Factor Authentication) ?
When logging into your MiFinity account or when you carry out a transaction, MiFinity may send you an SMS containing a verification code, which you must enter correctly before gaining access to your account or completing the transaction. When you make a deposit using a debit or credit card, your bank may also require you to authenticate yourself using an additional layer of security called 3D Secure 2.
Mobility becomes are more important topic day by day. Clients want the option to always have access to their accounts, no matter where they are right now. With the MiFinity mobile app you will access to all account features and manage your account from anywhere in the world.
MiFinity is offering a mobile app for Apple devices, which can be downloaded from the official Apple App Store. Android users can also get the official MiFinity Mobile App through the Google Play Store.
MiFinity Review – Deposit Options
MiFinity offers a wide range of deposit options. You can use popular options like VISA, MasterCard or UnionPay, but also local or alternative options like BitCoin or BitCoin Cash. In order to use local payment options such as Interac (Canada), Trustly or Klarna you must be set up to perform online bank transfers with your bank.
Please keep in mind that your available options vary depending on your country of residence and verification status. To be sure, please check from within your account to see what options you have currently access to.
MiFinity Review – Withdrawal Options
With withdrawing funds from your account, it is basically the same as with the deposits. Not all options are available to all clients, but the most common payment options should be available to all. However, please keep in mind that, according to the MiFinity withdrawal policy, MiFinity will remit amounts only to the same payment method from where the funds where deposited.
To be sure about your available withdrawal options, please check your MiFinity account
Support, Help & Live Chat
Sometimes you need to get in touch with the MiFinity support team. Contacting any support team can become a real challenge. However, MiFinity offers a great and fast support through different channels.
Here is a quick overview about all options. More details you can find on our MiFinity Support page.
We recommend to always check their FAQ Section first. There you will already find the answer to many common issues. In case you cannot find an answer to your question just choose any of the available options to get in touch with their team. Of course you can also contact us at anytime.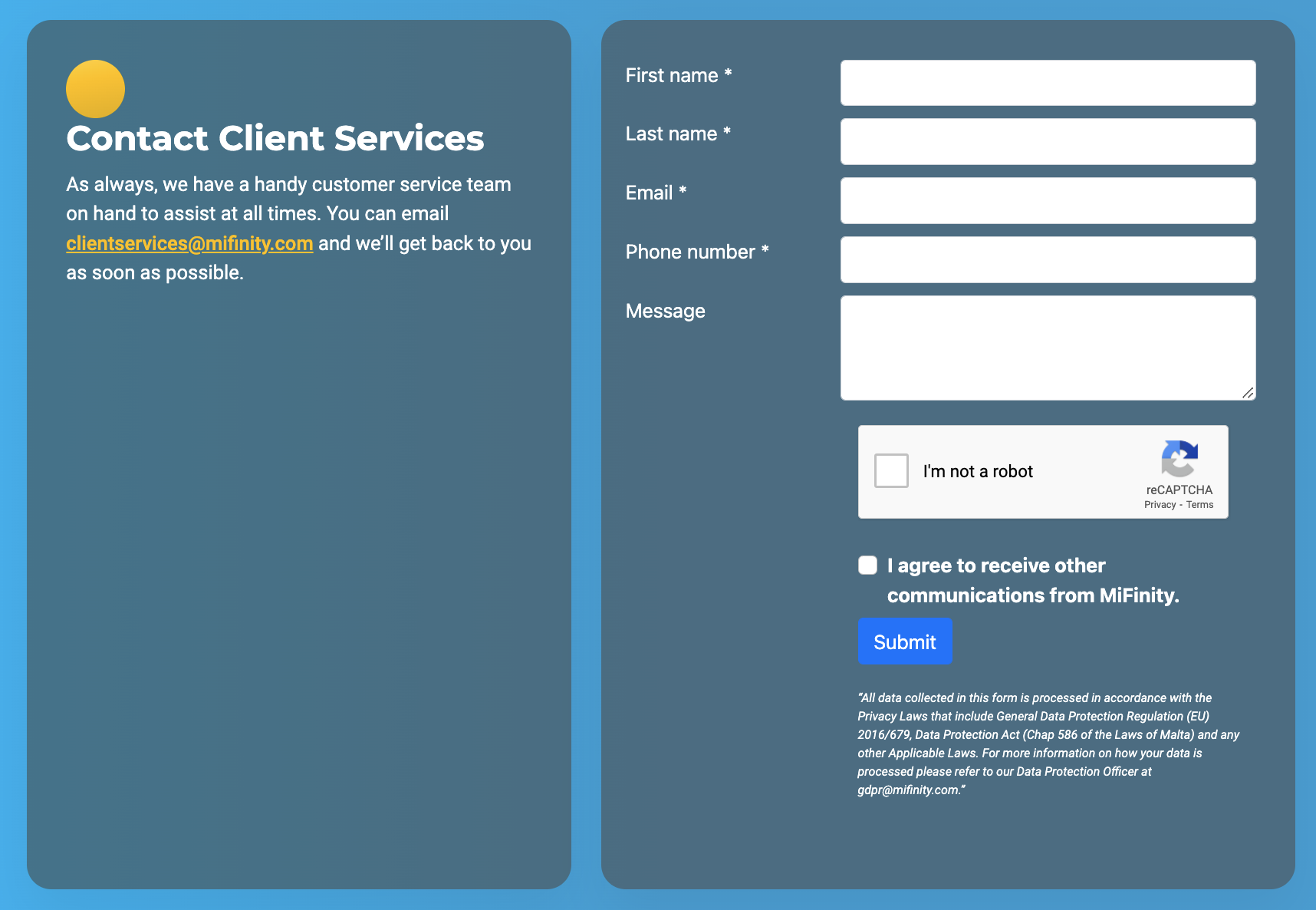 Where does MiFinity provide service?
MiFinity is available to customers from most countries without any restrictions. However, there are still a few clients which will not be able to use their services.
The following table will show you exactly from which countries you are not allowed to open a MiFinity account.
Non-Serviced Countries
Afghanistan

Belarus

Congo (DRC)

Cote d'Ivoire
Libyan Arab Jamahiriya

Myanmar

Nicaragua

North Korea
Sudan

Syrian Arab Republic

Yemen

Zimbabwe
For any questions regarding MiFinity services and restricted countries or about MiFinity in general,  please do not hesitate to contact us .