Skrill made some major changes to their verification process and a verification through email is no longer possible. Here we will show you how you can still remove the transaction limits completely by verifying your Skrill account.
eWallet-Optimizer customers can verify through uploading an ID, proof of address and a selfie of their face holding a handwritten note with "Skrill" and the date of the verification process next to it in order to get verified within 1 business day.
All our clients have the huge benefit that they do not have to deposit funds into their accounts or use a webcam to get verified. Only by using our link you will have these benefits available in your account.
If you are not registered with us yet, please make sure to use our link to enjoy the faster and easier verification process and join our free eWO Loyalty Program now.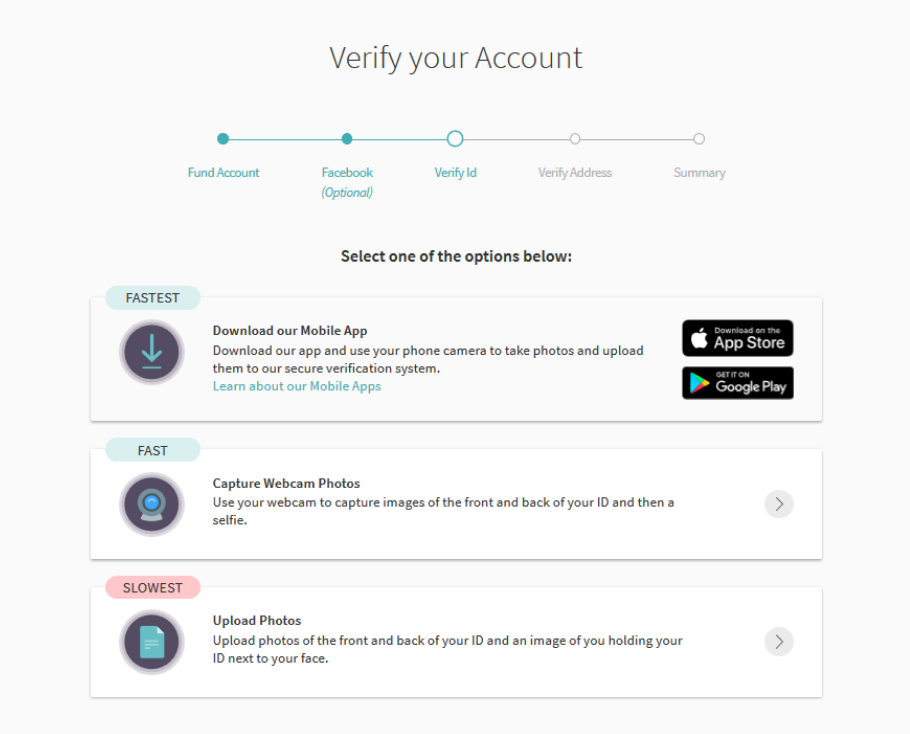 Skrill Verification – Special eWO Support
As a client of eWallet-Optimizer you will enjoy lots of benefits including our prioritized verification without having to deposit funds into your account to get verified. With us your account will be ready within 1 business day and all limits will be removed as well.
You already have a Skrill account?
If you are already a client of us, you enjoy a prioritized verification process without the need to upload any funds to get fully verified.
Just make sure that you have all of the following documents ready, login to your account and go to your account settings and follow the quick guide:
Choose "Upload Photos" from the verification options menu.
Now choose your country of residence and your preferred account currency.
Upload an ID document – an Identity card, a passport or driver's license.
Upload a selfie – a picture of your face holding a note with "Skrill" and the date of the verification process next to it.
Upload an address verification document – just choose your preferred document – like a bank statement or utility bill. 
Please note, it has to be a recent document showing your full name and address.
That's it. Your account should be verified and all limits removed within 1 business day, but usually even faster.
Please make sure to upload high quality documents with all details clear and legible. In case any document could not be accepted, Skrill will contact you and ask you for another document or to provide a better picture.
Once you have reached the required transfer volume (deposits to merchants) just use our VIP Upgrade form to get upgraded to VIP.
No Skrill account yet?
Becoming an eWO client is fast and easy and also comes with some great benefits for your Skrill account. Just make sure to sign up your FREE account with us to enjoy all those benefits and get the most out of your Skrill account.
Once we have the confirmation you will be eligible for the following benefits:
Monthly extra Benefits
eWO Clients can enjoy some special benefits each month. For more details, please contact our support team. We are happy to give you all information about the eWO Loyalty System.

1% Cashback for 30 days (up to 100 EUR)


UPDATE 22/07/2019 – Promotion has been stopped by Skrill until further notice. We hope it will be back soon!


Our Skrill clients who are not Skrill VIP yet, are able to join our exclusive Skrill VIP-Upgrade promotion that earns them up to 100 EUR Cash Bonus paid by Skrill in addition.
Faster VIP Upgrade
Faster Upgrade to bronze and silver VIP status (only 3,000 EUR for bronze, 5,000 EUR for silver & 15,000 EUR for gold) – please note, this is a one-time offer for new clients and standard requirements apply afterwards.
Skrill Verification – Regular Customers
The verification process for regular customers who are not members of our eWO Loyalty program will have an additional step which will make it harder and more uncomfortable to get verified.
All regular customers have to deposit at least 10 EUR into their accounts to finish the process and the verification will also not be prioritized which might cause a delay in the process.
Therefore, we highly recommend to apply to our eWallet-Optimizer Loyalty Program to enjoy the faster and easier verification process as well. Besides that you will also enjoy monthly benefits, we can help with lower VIP requirements and of course our personalized support at 365 days a year through email, Skype or Facebook.
Upload Funds to your Skrill account
Besides the regular deposit option like credit card or a bank transfer, you have also some additional payment options available to fund your account (see screenshot below). Depending on your country of residence the option may vary, so make sure to check if there is any option available to you which you are able to use.
However, if you have not applied to our eWO Loyalty program yet, you can still submit your account details to join us. Once we have the confirmation this additional step will disappear for you and you will have an faster and easier account verification  process.
Of course there are lot more benefits with us, like the monthly special benefits, lower VIP requirements and personalized support through Skype, e-mail or social media channels.
Other options for Skrill Verification
Additionally to uploading your documents you have also two other verification options available which you can use to fully verify your account:
However, since not all customers do have access to a webcam and have issues using the app, uploading the documents is in general the most popular verification option for all customers.
Please keep in mind, for those two options a deposit of at least 10 EUR is also necessary for all non-eWO members.
It is also important to know, that Skrill does not offer email verification anymore and your documents will not be processed if you send them to the support. 
Skrill VIP Upgrade – Your Road to Skrill VIP
Thanks to our connection to Skrill, we are able to get our clients upgraded to a higher Skrill VIP status easily.
If you are an exiting Skrill customer, you can request to get your Skrill account upgraded to a higher VIP Status using the following form.
Skrill VIP Upgrade – Conditions
For this manual Skrill VIP Upgrade, the overall sum of transfers you have made within 30days to any merchant counts.
Once you are upgraded, you will stay at the specific VIP status for the rest of the current quarter.
Simply fill in the followin form and we will take care of the Skrill VIP upgrade.
Please note, the lower requirements are a one-time offer for new eWallet-Optimizer clients. Once you have used our faster VIP Upgrade service you need to reach the standard requirements afterwards to maintain your status or to get upgraded again.
Fill the form to get your higher VIP status within 1 business day.
Please contact us if there might be any questions or problems with your Skrill verification or your account upgrade.
We are here to help you.