The NETELLER app allows you to manage your digital wallet account and send and receive your funds to anyone, anywhere, at any time.
NETELLER has launched their app to make it even easier to access and handle your funds online.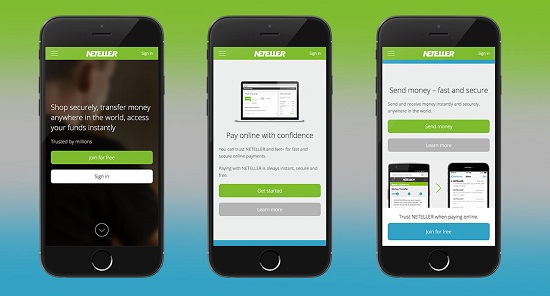 Login to your NETELLER App
Start using your NETELLER Mobile App by just opening the app on your smartphone or tablet and enter your mail address followed by your password. If you are using the enhanced security feature 'Two-Step-Authentication' you need to enter your code as well. We strongly recommend to activate this feature to increase your account security.
Send money with your NETELLER App
Using your mobile app to send money is easy and comfortable. Choose the 'Money Transfer' option from the menu of your mobile device and enter the recipients mail address, your preferred currency and the amount you would like to send.
Uploading funds with your NETELLER App
As easily as you can transfer money from your NETELLER account to a merchant or friend you can upload funds to your NETELLER account as well. Just choose the 'Deposit' option from the menu and choose one of your available payment options to upload funds.
NETELLER Mobile App Transaction History
To check your transactions and your account balance click on the 'History' tab from the menu to open your transactions history and see your account balance.
As you can see, there are lots of benefits by using the NETELLER mobile app. With your NETELLER app you can easily and comfortably manage your funds on the move at any time and at any place with your mobile devices.
The app is intuitiv and easy to handle, so that you won't have any problems to get used to it really fast.
If you have any questions about the NETELLER App or NETELLER in general, please do not hesitate to contact us.
We are happy to help.
Not registered with NETELLER yet?
If you do not have a NETELLER account yet, just
sign-up with us now
and enjoy some great benefits with us:
 Instant Bronze Pro VIP Status with free NETELLER MasterCard.

Limited p2p transfer fNETELLER fees and highest NETELLER limits.

Special monthly benefits – get in touch!

 Fully NETELLER verificaiton within 1 business day.

Additional & personal Support – 365 days a year.