** IMPORTANT: The Skrill Security Token is not available anymore since June, 2016. To protect your Skrill account and keep your funds safe, please now use the Skrill Two-Factor Authentication.
To protect your account against unauthorized access Skrill introduced the Skrill Security Token.
The Security Token puts your Skrill account at an even higher security level by generating an one-time-use code that you have to enter along with
your email and your password. The Security Token was a special device provided by Skrill that was not free of cost for Non-VIPs, but could be ordered by all Skrill VIP members for free on their website. All other clients had to pay a fee of 15 EUR for the token.
Below are some useful information and details about the Security Token.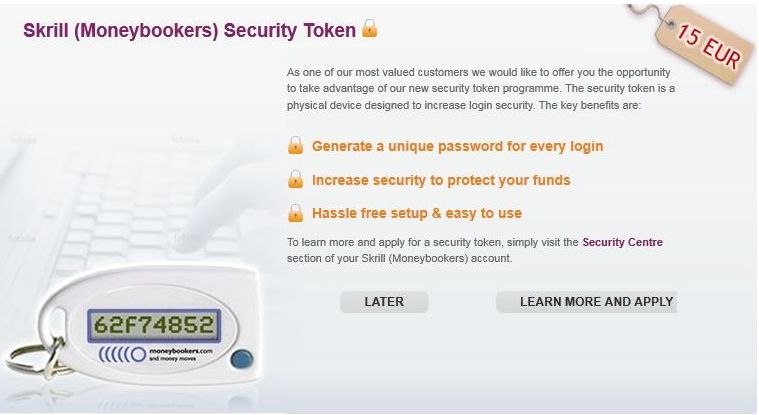 About the Skrill Security Token
When Skrill (former Moneybookers) offered their Security Token in 2009, they were one of the first within the business offering this important security upgrade. When using the security token you will need to enter a specific generated login number every time you log into your Skrill account. The Skrill Security Token is a powerful tool and a must-have for every Skrill (Moneybookers) customer. If you use the security token, Skrill offers a 100% money-back guarantee in case of unauthorized account access.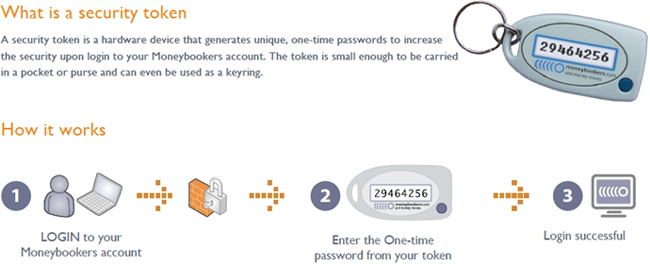 The Skrill security token works with batteries that should not be changed. The installed source has a lifespan of around 5-7 years. When it dies, you need to contact support to let you access your account and provide another token. The same stands if the Skrill Security Token gets broken or lost.
Please note, the Security token is no longer available and all clients should activate the Two-step Authentication in their accounts to guarantee the safety of their funds.
100% Money-back guarantee by using the Security Token
Skrill guaranteed the safety of your online funds by offering a "100% Money-back guarantee" if you were using the Skrill Security Token.
Skrill Terms and Conditions:
Skrill (Moneybookers) offers a 100% Money-back Guarantee. In the unlikelihood that you suffer a financial loss as a direct result of unauthorized access to your account, we will reimburse you in full, with respect to the funds in your Account. To clarify, for the purpose of the 100% Money-back Guarantee, "unauthorized access" means a transaction that is processed in your Account (as defined in clause 3.1 of the Skrill Account Terms of Use) through the Skrill (Moneybookers) website without your permission, authorization, or knowledge and where it can be established that you are a victim of fraud or theft.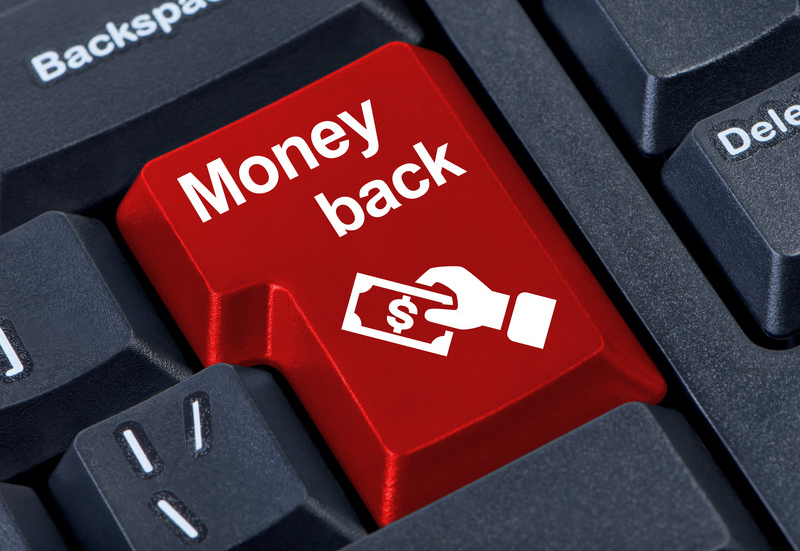 Get in touch for questions
Not registered with Skrill yet?
As you can see, the Skrill Security Token was the perfect tool to protect your Skrill account.
However, it was replaced by the Skrill Two-Step Authentication which adds the same level of security to your account, is free and is fast and easy to set up. It will also help you to protect your funds and makes a refund more likely in most cases if anything goes wrong at some point.
If you have any questions or issues with the Skrill Two-Step Authentication or questions about the old Security token, just let us know and please proceed by following our instructions on how to join us, if you are not added to our free bonus program yet.
For any further questions, please do not hesitate to contact us .
We are here to help you.
If you do not have Skrill account yet, just
sign-up with us now
and enjoy some great benefits including monthly cashback paid directly into your Skrill account:

Easier & faster VIP Status Upgrades.


0.3% Cashback on your Transfers.


 15 USD welcome bonus (only new clients!).


 1% Cashback for new VIP clients (up to 100 EUR).


 Fast-Track account verification.


 Additional & personal Support – 365 days a year.