Current State of Crypto eWallets
Crypto eWallets are becoming a more important topic day by day. Both NETELLER and Skrill provide their customers with the option to buy cryptocurrencies. Currently, you can buy and sell Bitcoin, Bitcoin Cash, Etherium, Ripple, Dash, Monero, and Litecoin.
With this article we are going to give you all details and explain to you if it makes sense to purchase cryptos with your eWallets.
Crypto eWallets – Benefits of Buying with NETELLER and Skrill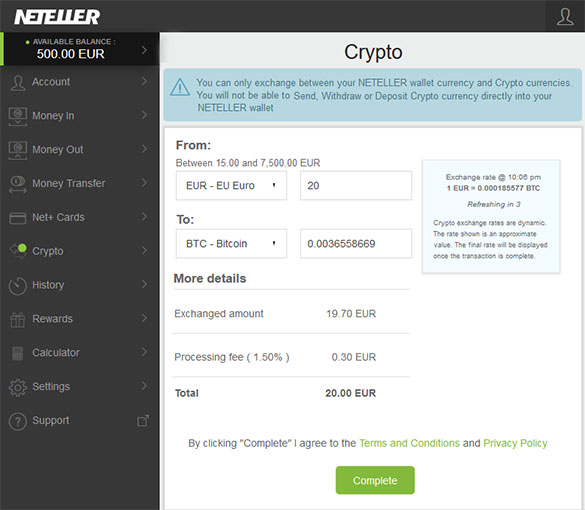 There are several benefits when purchasing cryptos with eWallet. While buying cryptocurrencies at regular crypto exchanges might be difficult, Skrill and NETELLER did a great job creating an exchange which is self-explanatory.
Buying cryptos with Skrill and NETELLER takes just a couple of moments. All you need to do is sign up with an eWallet of your choice and log into your account. Afterwards, you need to click on "Exchange" on the left side of your screen.
Now you have to choose which cryptocurrency you want to buy. Click on it and type in the amount and confirm the transaction. The funds will then be converted to cryptos and show up in your account balance.
Additionally, you can also set up scheduled cryptocurrency purchases. Type in the amount you would like to invest, and Skrill and NETELLER will take care of the process. These re-occurring purchases will help you to grow your portfolio.
Make sure to also check out our NETELLER Crypto Review as well as our Skrill Crypto Review.
Crypto eWallets – You don't actually "own" cryptos
Even though it says that you are "buying" cryptocurrencies, you don't own them. Both NETELLER and Skrill customers can purchase cryptos and send them to other Skrill and NETELLER accounts. You can also sell your cryptos whenever you want.
This means that you are actually not owning actual cryptocurrencies. The cryptos will show up in your account balance, but you don't you are not in full control of them.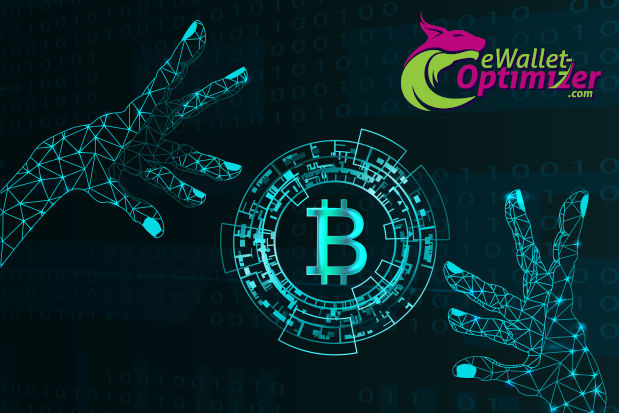 The NETELLER and Skrill cryptocurrency service is currently not regulated by the
FCA
. This means that you won't have any recourse to the Financial Ombudsman Service if a complaint occurs. However, you can still address a complaint by contacting the customer service as usual.
Crypto eWallets – Purchasing Fees
Moreover, keep the fees in mind when buying or selling cryptos with eWallets. Both NETELLER and Skrill will deduct the fees for each transaction from your NETELLER account balance automatically.
Every cryptocurrency transaction will be subject to a fee. Check the table below to find out how much fees you have to pay when purchasing or selling cryptos:
EUR, USD.

Other Currencies*
*Australian dollars, Brazilian reals, British Pound sterling, Canadian dollars, Indian rupees, Japanese yen, Mexican pesos, Russian rubles, Swiss francs, and Colombian pesos.
Crypto eWallets – Conclusion
Purchasing cryptocurrencies with eWallets is a fast and convenient way to get started with cryptocurrencies. However, there are certain disadvantages which you have to take into account. The inability of transferring your balance to regular crypto wallets is quite disappointing. Crypto experts will undoubtedly figure out these limitations right away. Therefore it's safe to say that people who already own cryptocurrencies are not the target group of this crypto service.
Buying cryptocurrencies with NETELLER and Skrill is excellent for customers who have no experience with cryptocurrencies at all. The eWallets allow you to buy cryptos in a couple of seconds. In contrast to regular exchanges, you don't even have to set up a separate account, which is convenient. Investing in crypto can still generate some decent returns, and purchasing them with Skrill and NETELLER is an easy way to get started.

If you want actually to buy and possess cryptocurrencies, we highly recommend you to check out Bitpanda. Bitpanda is one of the most reliable cryptocurrency exchanges and allows you to invest in Bitcoin and plenty of other cryptos.
For any questions about Bitcoin, Bitpanda and of course about NETELLER, Skrill or ecoPayz, please feel free to contact us at any time. We are always happy to help.