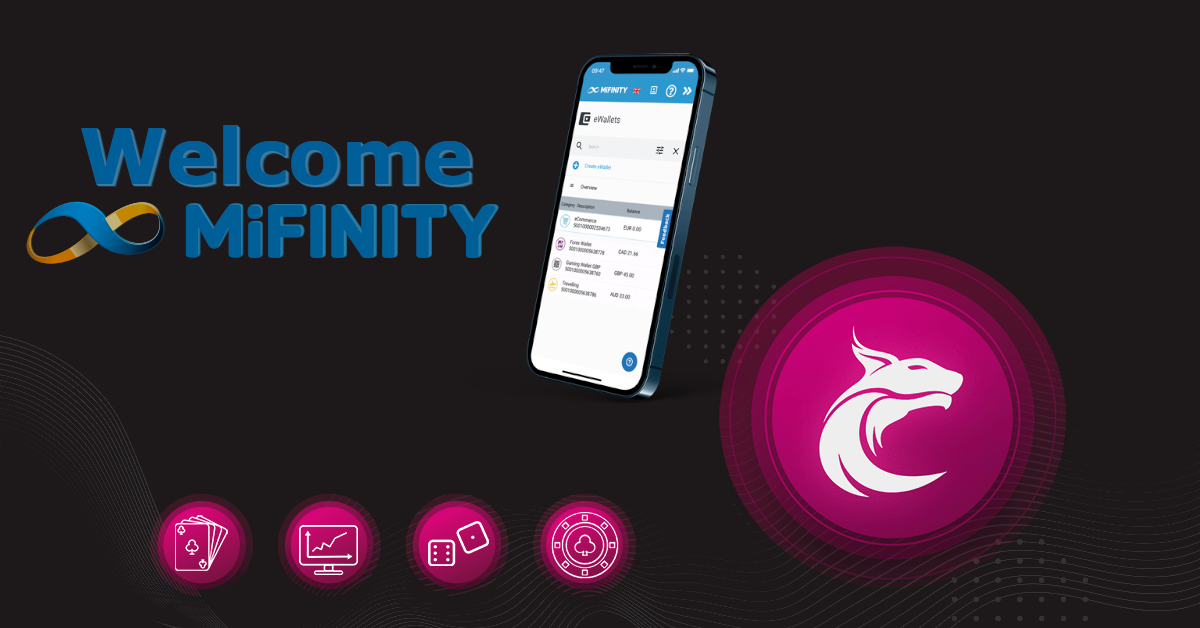 We promised to provide the best conditions and partners to our clients and therefore we are really happy to announce another partner of the eWO family today – MiFinity.
MiFinity is on the market for more than 18 years already, but they just recently started to add a brand-new affiliate program. Of course, we are more than proud to be one of the first affiliates to join.
We will now give you some details about the MiFinity eWallet, what benefits you can expect and how you can sign up your account with us to get the most out of it.
Register your new MiFinity eWallet account with a free deposit option and low p2p fees:
Use the MiFinity eWO Registration link to create your new account.
Start the MiFinity Registration process.
Finish the account Verification directly afterwards to remove all restrictions and account limitations.
Submit your account details on the MiFinity Form on our website.
Your account is ready now.
Start depositing to your favorite merchants for free, or send money to other accounts without any fee. More benefits through eWO can also be expected in the future, so make sure to use our registration link to not miss any of the future benefits.

MiFinity Details & Benefits

MiFinity offers lots of benefits to its clients, and in combination with the eWO Loyalty program it becomes even more attractive. We summarized the most important benefits to make it easier for you.
Please also check out the MiFinity Review for more details or get in touch with us.
Personalized eWO Support through all communication channels.
Monthly eWO Rewards Program (get in touch for more details).
FREE SEPA Deposits to your account.
Really LOW p2p fees.
Virtual IBAN to directly transfer into your account.
24/7 Customer Support.
Crypto deposit with most popular currencies.
New merchants added on a daily basis.
It is worth to mention that those benefits are available to customers with lower transfer volumes as well as to customers with higher volumes, which is a major benefit compared to other providers on the market.
Is MiFinity safe to use?
Plain and simple: yes – MiFinty is using the latest anti-fraud and security tools to keep your account safe. Sensitive information are always protected and none of your financial details will be shared with any other parties.
In addition, they added an extra layer of security to their accounts. When logging into your MiFinity account or when you carry out a transaction, MiFinity may send you an SMS containing a verification code, which you must enter correctly before gaining access to your account or completing the transaction. When you make a deposit using a debit or credit card, your bank may also require you to authenticate yourself using an additional layer of security called 3D Secure 2.
However, you should still make sure to only keep funds in your account which you really need there. This is of course a general rule and applies to all wallets out there.
MiFinity Merchants
MiFinity is currently working with more than 400 merchants, and new merchants are added basically on a daily basis. They are working with sports betting merchants, casino providers, poker sites and even some forex sites.
To already give you a few more details, the following table will show you some bigger and more popular merchants where you can use your MiFinity account to deposit. If you want more details about the available merchants, please contact us , we will then :
More eWO Benefits to come?
We are not allowed to share too much right now, but we already know that some great things will come for sure by the end of 2022. We are in constant communication with MiFinity and will try our best to always offer you the most valuable program.
Just make sure to follow us on Twitter, Facebook, Instagram and subscribe to our Telegram News Channel where all MiFinity news and other eWallet news will be published immediately.