New contactless Skrill Card
The Skrill Card works like every other prepaid MasterCard and is an easy and comfortable way to access your funds by using the Skrill MasterCard without worrying about spending too much money. Your available balance with the prepaid MasterCard is the same as in your Skrill account.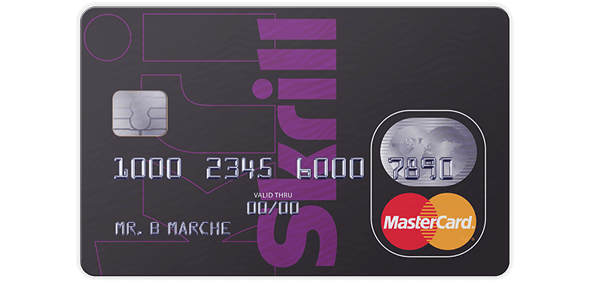 Skrill recently announced that a new card is coming, which will step by step to replace all old cards once they expire. Clients without a MasterCard will receive their new contactless Skrill MasterCard from now on.
Below are all details and information about the new Skrill Prepaid MasterCard.
Who is eligible for the new Skrill Card?
All clients who order a new MasterCard now, or clients with an old card that expires from now on, will receive the new card.
If your card is about to expire and you did not receive any information about a new card yet, please contact Skrill so that they can manually order a new card for you.
What does contactless mean?
The MasterCard Contactless technology makes your purchases quickly, safely, and more easily with just a tap of your contactless-enabled MasterCard, wherever you see the universal contactless symbol.
Check the MasterCard homepage for further information about this feature.
How do I activate my new Skrill Card?
You can activate your new card easily via your Skrill account. Simply log in, click on the "Skrill Prepaid Card" section and enter your card details to activate your new card.

What should I do with my old Skrill Card?
Once you have activated your new Skrill MasterCard, your old card will become invalid. Please destroy your old card as soon you have activated your new Skrill MasterCard.
Will I receive a new PIN for my Skrill Card?
Yes, you need a new PIN for your card. Once you have activated your card your new PIN will be displayed in your account. You also can check it at any time by logging into your account and click "Skrill Prepaid Card".
Are there any additional costs for my new Skrill Card?
No, there are no additional costs or fees. However, non-VIP clients have to pay the usual yearly annual fee of 10 EUR for their new card.
Skrill MasterCard issued by Paysafe
Your new Skrill Prepaid MasterCard is issued by Paysafe Financial Services Limited (company number 04478861) pursuant to a licence from MasterCard International.
Paysafe Financial Services Limited is authorized by the Financial Conduct Authority (FRN: 900015) under the Electronic Money Regulations 2011 for the issuing of electronic money and payment instruments. MasterCard and the MasterCard Brand Mark have registered trademarks of MasterCard International. You can view and download a copy of the terms and conditions that apply to your new Skrill Prepaid MasterCard.
Learn more about the Paysafe Group and the Skrill MasterCard Terms & Conditions.
Please let us know if you have any further questions.