Paysafecard, one of the global leaders in online prepaid payment systems and part of the Paysafe Group, announced their expanded cooperation with Google.
In June 2018 they started their cooperation with Google which was now expanded with additional countries.
Customers are able to use paysafecard for their payments in the Google Play Store. Before, customers had to use a credit card or a digital banking service to pay online. With the new payment option they now had the option to use a secure and anonymous payment option without sharing their personal information with a third-party.
However, at the beginning is was only available to ten countries which now has changed. Six additional countries were just added now.
The following article will give you a quick overview about all the details and who now can benefit from those changes.
Why using paysafecard at all?
In times where privacy becomes a more and more important topic customers are looking for options to share as less personal details as possible.
Using paysafecard is the perfect tool to protect your privacy and basically pay completely anonymously.
A paysafe card can usually be board a different stores like a gas station, supermarket or other merchants.
You can buy it with cash and you will receive a 16-digit code which then can be used to pay your item in the Google Play Store.
So, no personal details are shared through this. Of course there are also options to buy a paysafecard online, but in this case you will loose the your anonymity as you most likely will pay for it with your credit card or bank transfer which will leave a trace online.
Play more on Google Play with paysafecard!
You can now purchase all your favorite Apps, games, items and other content on Google Play with paysafecard!
Who can use the paysafecard for the Google Play Store?
Until now, the option was available to customers from only ten countries, but this has changed now.
The Paysafe Company recently announced that they expanded their program to a total of 16 countries now and we also expect more countries to be added at some point. The six countries which were added now are Austria, Switzerland, Italy, Portugal, the Netherlands and Belgium.
Please have a look at the following table to see all 16 countries:
Austria

Belgium

Cyprus

Czech Republic
Netherlands

Poland

Portugal

Slovakia
Slovenia

Spain

Switzerland

UK
Even if you country is not available yet, there is a good chance it will be available in the future. Of course we will update here as soon as there is any news about additional countries.
Can I also use paysafecard for NETELLER or Skrill?
Absolutely.
NETELLER
and
Skrill
do also offer paysafecard as a deposit option to upload funds into your account.
Please check:
However, this option is not available for all countries yet. So please make sure to check your available payment options in your NETELLER or Skrill account to see if you can use it.
Please also note, that it is a "deposit only" payment option and to withdraw your funds afterwards you have to choose any other option which is available to you.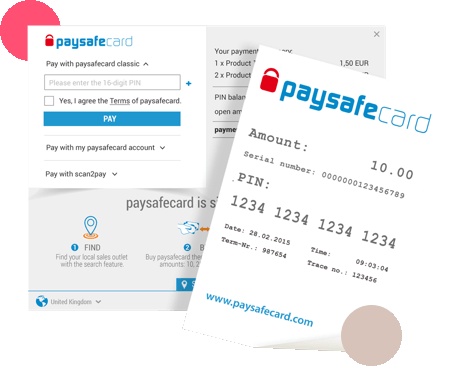 If you have any further questions about our eWallet Affiliate Program, paysafecard or any other questions, please do not hesitate to contact us .