The Bitcoin boom in late 2020 and early 2021 has become one of the most popular news worldwide. Indeed, 2020 turned out to be quite difficult for the economy and the financial industry. But for cryptocurrencies, it was a great time.
Therefore we decided to provide some more details and information about the Bitcoin boom 2021 and its reason, possible further developments and briefly tell you what Bitcoin is and where you can buy them.
What is Bitcoin?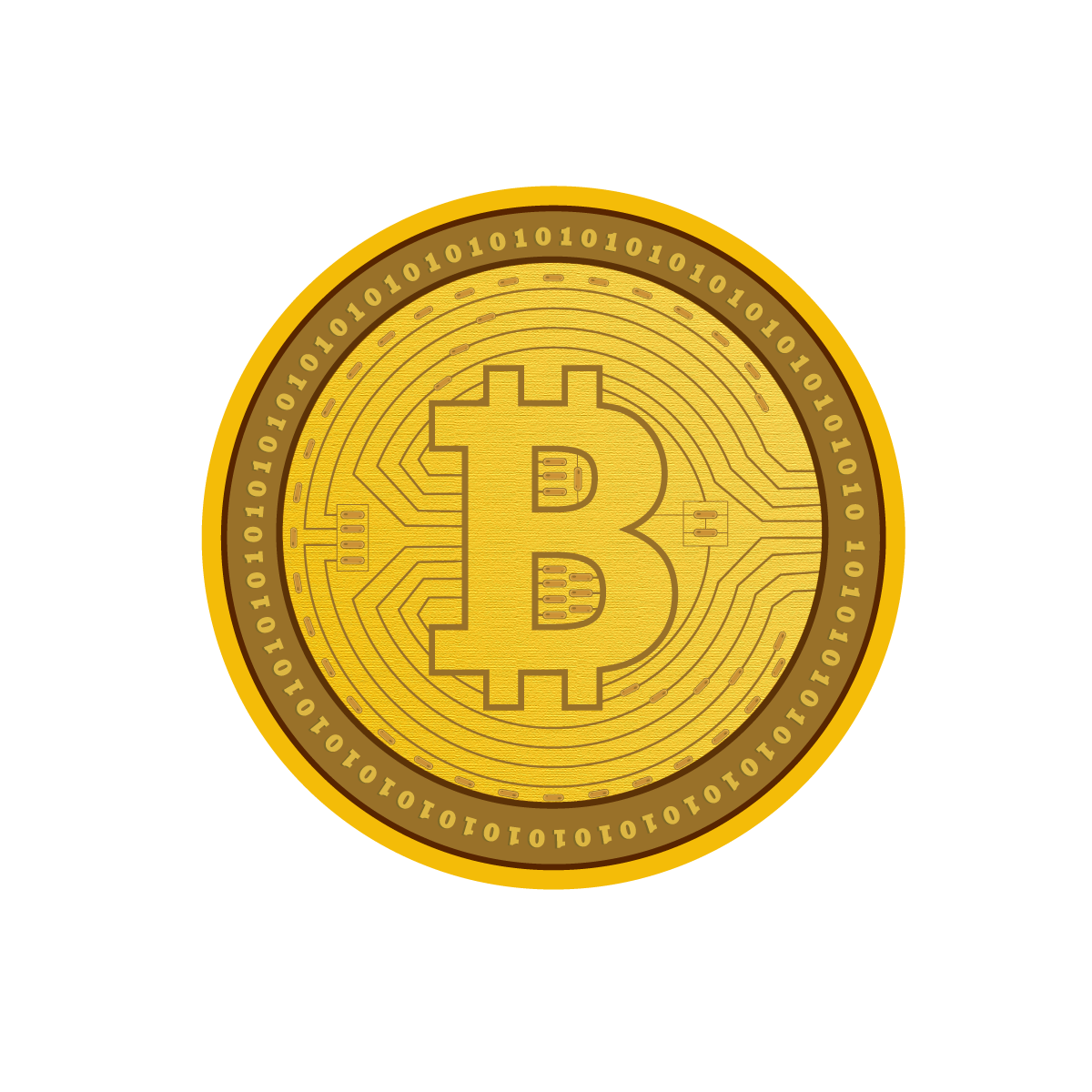 Bitcoin is the most famous cryptocurrency managed and stored on computers. First time it appeared in 2009 and became the first cryptocurrency known to the world. Bitcoins are a sequence of unique, encrypted blocks of information. Their release is carried out only through complex mathematical calculations.
The Bitcoin system was created in 2009 by a certain Satoshi Nakamoto as an alternative to fiat currency, which will not be controlled by the government and banking systems. It also is still unknown who exactly is behind the name of Bitcoin's creator. Back in 2009 one Bitcoin did cost only 0.1 USD and today (at the time of this writing) the Bitcoin price has reached 35.363 USD.
One of the main advantages of Bitcoins is privacy. You can be sure that the Bitcoin system will not tie your wallet owner's data to a virtual currency wallet. You can also create a new address for each new transaction with Bitcoin and through this way it will be impossible to track your transactions.
The maximum number of Bitcoins cannot exceed 21 million and miners will mine the last Bitcoin in 2140. Until now not a single state in the world or any banking systems can influence Bitcoin amounts and rates.
Blockchain technology
Speaking about Bitcoin, we should also mention blockchain technology.
Simply put, the blockchain is an extensive distributed and decentralized database that contains information about transactions of cryptocurrencies in general and Bitcoin in particular. Computers of millions of users around the world store this database. The data is encrypted into chains of "blocks" and each subsequent block contains information about the previous one. Thus, the blockchain ensures data integrity and reliability.
In total, the blockchain works as follows:
"A" wants to transfer money to "B".
Transactions are sent to the network and collected in a new "block".
All participants in the blockchain system receive new blocks for verification.
Each participant's device in the blockchain system saves a new block to its database.
The block falls into the "blockchain", which contains information about all transactions.
The transaction is complete.
The blockchain technology keeps track of transactions, identifies parties and enters into contracts. Today the blockchain technology is actively developed and used not only for financial transactions.
The Bitcoin Boom 2021
Starting on December 16, 2020 the Bitcoin value started to climb. On December 15th one Bitcoin was available at a price of 19.434 USD. By the end of December 16th it already reached 21.352 USD which was +9.87% in only one day.
Throughout the entire COVID-19 year, Bitcoin's value has gradually and steadily increased, but there were also falls. The strongest collapse occurred on March 12th, when the Bitcoin rate decreased by 39.18% to 4.826 USD. This fall of Bitcoin happened after the coronavirus was recognized as a pandemic a day earlier. But in the following days the market stabilized again and Bitcoin gradually grew in value. Bitcoin has doubled its value in fall compared to the beginning of 2020 and on December 1st it reached a historical maximum of 19.902 USD (the previous record was 19.666 USD on December 17th, 2017).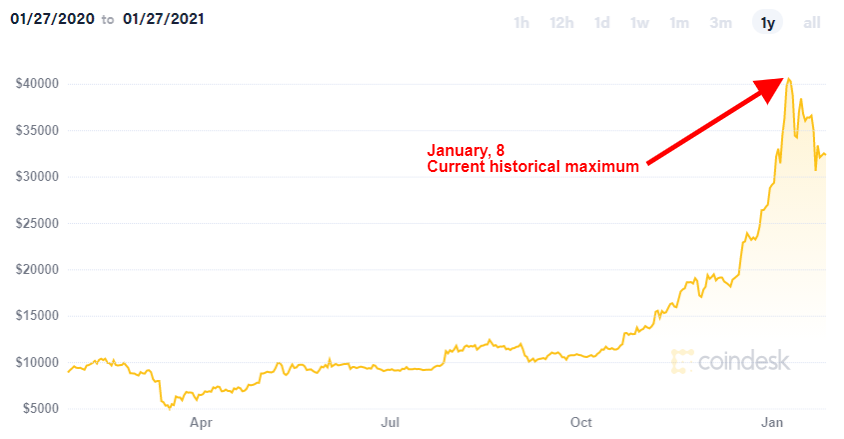 The strong rise in Bitcoin's value on December 16th occurred the day after Joe Biden's official announcement as the next President of the United States. Rate growth is possibly related to this event since the crypto world expects Joe Biden to be more loyal to both Bitcoin and cryptocurrencies in general. But it is also essential that in the same week two large investment companies – Ruffer and MassMutual – announced their investments in cryptocurrency.
From December 16th, 2020 Bitcoin almost every day reach a new all time high and on January 8th, 2021, the BTC rate reached another historical maximum of 41.940 USD.
At the time of this writing, the cost of Bitcoin has already dropped to 35.363 USD. Now the market is experiencing a correction which can be expected after such a rapid growth.
What caused the Bitcoin boom 2021?
At the end of 2020 – beginning of 2021, many factors coincided at once, which provoked a rapid growth in Bitcoin. Let's take a quick look at the most significant factors.
Economic crisis and inflation due to Covid-19
Due to the imposed restrictions and lockdowns, many countries have economies close to collapse. Countries started printing more fiat money, which led to an increase in inflation. Thus, savings in fiat money began to depreciate. In such situations, people are looking for a defensive asset – for centuries, gold and precious metals have been such an asset. But we live in the digital age, and now we have an alternative – Bitcoin and other cryptocurrencies. The demand for alternative investments has increased – there are more buyers for Bitcoin. And high demand always affects the rate because the more need, the higher the price.
The interest of large investors
As a rule, large investors feel the losses most acutely on their investment portfolios and are more actively looking for alternative assets. One after another, large companies, including conservative ones, began to buy Bitcoin, among such companies: Guggenheim Partners, MicroStrategy, Morgan Stanley, Tudor Investment, and many others. This interest of institutions signaled that Bitcoin is now more credible in 2021 and provoked a chain reaction. And as we remember, the more demand, the higher the price.
Decentralized financial services
DeFi movement received a new breath in the past year. Decentralized financial services are actively developing, and now many traditional banking operations are available in an offline and anonymous format.
With DeFi, lending, insurance, trading, and other banking operations are available without the paperwork or income proof. Both Bitcoin and Ethereum were the first DeFi applications.
The new DeFi tokens showed incredible growth right after the release, and now the entire crypto world is following (and actively participating) in the development of decentralized finance. Today the capitalization of this industry exceeds 14 billion USD. Although six months ago it was less than 1 billion USD.
Halving
The process called "halving" is a 2-fold decrease in the remuneration to miners for each new block. Initially miners received 50 BTC, after the first halving 25 BTC, after the second 12.5 BTC and after the third 6.25 BTC. Halving was programmed when Satoshi Nakamoto created Bitcoin which occurs every four years. Thus, since 2009 there have already been three halving with the last one occurring in 2020.
After each halving Bitcoin's value increased as the supply decreased. Bitcoin became more valuable and more difficult to obtain, so 2020 was no exception.
Expanding the possibilities of using Bitcoin in 2021
In the first half of November 2020, PayPal announced the addition of US users and merchants' ability to buy, sell, store and accept Bitcoins. Americans will have not only the option to buy Bitcoins, but also to pay with them.
Every year more and more services and shops offer their customers the opportunity to pay with Bitcoin for goods and services. Today Bitcoin is not only "digital gold" and you can use the first cryptocurrency as a full-fledged payment method in many situations.
Bitcoin 2021 – Will BTC continue to rise?

It is difficult to predict the future of Bitcoin in 2021. How much Bitcoin will fall or rise is impossible to predict since the Bitcoin rate depends on many different factors. Many large players already own large amounts of Bitcoin and if they decide to sell their assets this will for example significantly affect the first cryptocurrency's position.
Nevertheless, many experts agree that now there are no prerequisites for a total sale since the high growth potential of Bitcoin remains. You can find various judgments on the Internet, someone promises Bitcoin 2021 for 100.000 USD and someone for a million dollars. But now all these numbers look more like coffee fortune-telling.
Another thing is that Bitcoin still has high growth potential. The same factors that led to the Bitcoin boom in 2021 remain. Bitcoin is already gaining more credibility among players in the financial market. The scope of cryptocurrencies is expanding, DeFi is developing rapidly, and the consequences of COVID-19 does not pass without leaving a trace of the economy. While there are many opinions on the Internet that Bitcoin is just a bubble, we shouldn't underestimate the first cryptocurrency.
Where to buy Bitcoin in 2021?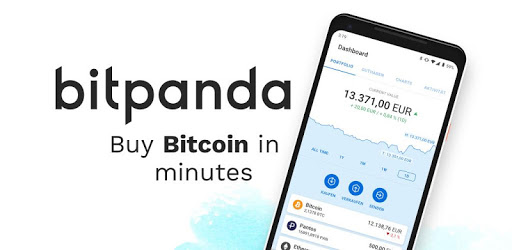 If you consider investing in Bitcoin to join the next Bitcoin boom 2021 fully armed, there is only one thing left – to buy Bitcoins. Many services offer to purchase and selling the world's first cryptocurrency and it can be challenging to choose among so many different exchanges. We want to recommend a reliable platform which is popular with both beginners and experts – Bitpanda.
With Bitpanda you can trade over 50 digital assets including Bitcoin, Ethereum and gold. Bitpanda users can also participate in the BEST Rewards Loyalty Program. To participate in this loyalty program you will need Bitpanda ecosystem tokens called BEST in your Bitpanda account and you have to make at least one cryptocurrency transaction a month. In this case, you will receive additional BEST tokens. In total you can increase your BEST savings up to 12.68% in a year by merely trading cryptocurrencies regularly on Bitpanda.
Also by using Bitpanda you will earn monthly bonuses (just like merchant deposits). To receive eWO bonuses for deposits at Bitpanda through e-wallets, you need to register using our link.
Bitpanda supported countries

Albania

Austria

Belgium

Bulgaria

Croatia

Cyprus
Czech Republic

Denmark

Estonia

Finland

France

Germany
Greece

Hungary

Iceland

Ireland

Italy

Latvia
Liechtenstein

Lithuania

Luxembourg

Malta

Netherlands

Norway
Poland

Portugal

Romania

Serbia

Slovakia

Slovenia
Spain

Sweden

Switzerland

Turkey

Ukraine

United Arab Emirates
Bitcoin commission payments for eWO Partners
Many of our clients and partners are actively using Bitcoin; therefore, all eWO payments are also possible to Bitcoin wallets. All our partners who have chosen to receive commissions through Bitcoin will get their payments every week and without additional fees (except network fees).
Are you not an eWO partner yet? If you are interested in joining new users to eWallets and would like to get your earnings directly to your Bitcoin wallet, contact us . We will be happy to set up your eWO account and provide your referral links.
You will also have access to all the partnership benefits with eWallet-Optimizer:


Adding new referrals;


Daily updated reports;


Weekly payments;


Daily pre payment on request;


eWO support for all issues – 365 days a year;


eWO Loyalty Program.

So, if you have many acquaintances in the poker, sports betting, forex, and casino communities – be sure to write to contact us and not miss the opportunity to receive a stable passive income.