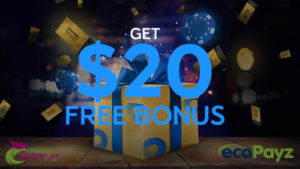 New ecoPayz customers can now benefit from our partnership and earn a 20 USD ecoPayz Sign Up Bonus for their first 2,000 USD (or currency equivalent) merchant deposits.
This ecoPayz sign up bonus comes in addition to the regular eWO bonuses you will earn which means you will boost your bonus to 1.5%. Of course you will also benefit from the free Gold VIP upgrade, a free MasterCard (EU only) and much more.
Let's have a look at how easy you can earn the 20 USD ecoPayz sign up bonus and what other benefits you can expect with your eWO partnership
How to get your 20 USD ecoPayz Sign Up Bonus:

Sign-up your accountwith our ecoPayz sign-up link or use your personal ecoPayz referral link from your dashboard.
Verify your ecoPayz account by sending or uploading your documents and become Gold VIP.
Reach 2,000 USD within 90 days after registration in merchant deposits.
Get in touch with us to request your ecoPayz sign up bonus payout.
In case you want to become an eWallet-Optimizer partner and start referring your clients to us, please get in touch and we will help you to setup your personal eWO partner account including your own links.

ecoPayz Sign Up Bonus & other Benefits

The ecoPayz sign up bonus is for sure one of the most interesting benefits for new clients, but by far not the only one. Let have a look at a more detailed overview about all benefits before we look at the verification process.
In combination with our eWO Program you can really optimize your ecoPayz account and enjoy lots of great ecoPayz benefits. Don't miss that chance:

20 USD ecoPayz Sign up Bonus + regular eWO Bonuses.


Instant gold VIP Status with free MasterCard (EEA Region only).


Upgrade to highest VIP status after reaching only 10,000 EUR in deposits.


Fully ecoPayz verified within a few hours, 7 days a week.


Easier Verification process (no selfie needed with us!).


Participate in the eWO Loyalty Program.


Additional & personal Support – 365 days a year.
You can see there are lots of great benefits and all of them are completely free with us.
Become a partner & let your clients earn a Sign Up Bonus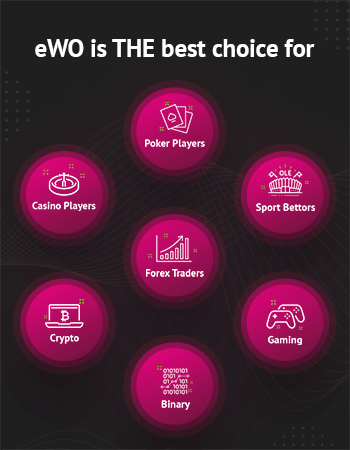 You are well connected and have a good network of people who might be interested in using ecoPayz and earn a 20 USD ecoPayz sign up bonus? Then our eWO Partner Program is the perfect choice for you.
Especially people from the poker, betting, forex or gambling communities can highly benefit from our program and it can be a great way for you to generate a solid passive income.
No matter if you want to refer on a bigger scale or only work with a smaller community, we can provide you the best possible deal for you as a partner and for your clients. If you are interested, please contact us to discuss your personal deal.
We will help you to get started as quickly as possible and setup your personal eWO dashboard including access to our eWO Loyalty Program.
Of course you can also contact us for any further questions about the ecoPayz sign up bonus or any other questions.