ecoPayz just announced the release of their new ecoPayz App. The app is available to all iOS and Android mobile devices.
The new ecoPayz App was designed to help you manage your ecoPayz ewallet even more convenient from any of your mobile devices and of course, you can download it for free on the App Store and Google Play Store.
For now, the app is only available to users in the EEA Region, Switzerland, and the UK, and supported languages are English and Polish only. However, more countries and languages will be added for sure in the future.

New features in the new ecoPayz App
The ecoPayz team has done everything necessary to make sure that the new app fully helps you to manage your ecoPayz account on the go. Quickly manage your funds, make a deposit, a withdrawal, or manage your ecoPayz MasterCard on road. The app basically gives you access to all features you already know from their website login.
The new version of the ecoPayz App comes with the following new and/or improved features:
Fast and secure login with Face ID, fingerprint, or a pass code.
Quick transfer of funds to users from your phone book with an ecoPayz account.
Push notifications about all changes to your account.
Supports Android and iOS mobile devices
ecoPayz MasterCard management: card freeze and unfreeze, disable contactless, in-store/online transactions, and ATM withdrawals.
All main functions such as account deposits, withdrawals, and P2P transfers are also available. Read our ecoPayz app review to find out all the features available.
Don't miss great ecoPayz benefits!
If you want to get such great benefits as free GOLD VIP, simplified verification, our additional support, and other bonuses, follow this quick guide.
Create a new ecoPayz account using our ecoPayz sign-up link (this is a prerequisite).
Download the new ecoPayz app from the following links: App Store, Google Play Store.
That's all! You will join the ecoPayz Bonus Program with eWO and get the most out of your ecoPayz account.
Please make sure to use the correct links as currently, the old version is also still available in the App Store and the Google Play Store.

New ecoPayz App features coming soon
In addition to the already implemented new features, ecoPayz announced some more potential new features for the future:
Personal IBAN – you can get a unique bank account number linked to ecoPayz and accept bank transfers from anywhere in the world.
Shopping at merchants – ecoPayz users will be able to make transfers to merchants directly from the app. The list of merchants will continuously expand.
Support for other regions and languages.
ecoPayz Benefits with eWO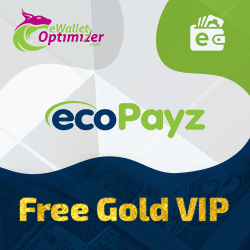 Just join the ecoPayz Bonus Program, and you will get the great benefits that are not available to regular users. Don't miss this opportunity to get the most of your ecoPayz account. It's completely free!
Here is a shortlist of all ecoPayz benefits with eWallet-Optimizer:

Instant gold VIP Status with free MasterCard.


Fully ecoPayz verified within a few hours, seven days a week.


Easier Verification process (no selfie needed with us!).


Participate in the eWO Loyalty Program.


Additional & personal Support – 365 days a year.
If you have any questions about the ecoPayz Bonus Program or want to become an ecoPayz affiliate – contact us . We will be happy to help and provide you with ecoPayz referral links.