There were many changes on the eWallet market recently and some of those changes affected eWO as well.
Therefore we are really happy to announce some GOOD NEWS for all of our clients and partners today!
Let's jump right into the details to make sure you are aware of all the upcoming changes and promotions to learn how to boost your earnings in June.

eWO Bonus & eWO Commissions continuing as usual
Important News first:

We are happy to inform you that all eWO Bonus and eWO Partner Commission payments will be paid for June as usual.
And now it can even be way more with the promotion announced below.
The only thing that changes is that you will need to use ecoPayz or MuchBetter accounts to receive your eWO Bonus & Commissions. More about that below.
eWO June Promotion with higher %
Refer new active accounts for ecoPayz and our new Partner MuchBetter and boost your commission for ALL your referrals in your eWO account easily.
Let's have a look at the promotion details to show you how and how much you can earn with it:
How to join the promotion?
All you need to do is to refer a certain amount of active new MuchBetter and/or ecoPayz accounts.
This will increase your commission percentages for your June commission:
Refer 5 new active ecoPayz and/or MuchBetter accounts in June to earn 0.05% on top in addition to ALL your referrals so far.
Refer 10 new active ecoPayz and/or MuchBetter accounts: earn +0.10%.
Refer 25 new active ecoPayz and/or MuchBetter accounts: earn +0.15%.
Refer 50 new active ecoPayz and/or MuchBetter accounts: earn +0.20%.
Refer 100 new active ecoPayz and/or Muchbetter accounts: earn +0.25%
Refer 250 or more new active ecoPayz and/or Muchbetter accounts: earn +0.30%
The additional commission will be paid on TOP to the eWO Commission tier that you reach in June.
We consider an account "active" once it has made one merchant deposit of any size one time during June 2020.
Commission Example:
If you reach the 0.55% commission tier for your eWO Payment in June and you refer 105 active accounts at ecoPayz and MuchBetter using your registration link in June, you will earn 0.55% + 0.25% = 0.8% commission in total.
This is applying for ALL your referred accounts added in your eWO Dashboard for all referred accounts there.
Get a MuchBetter Affiliate Link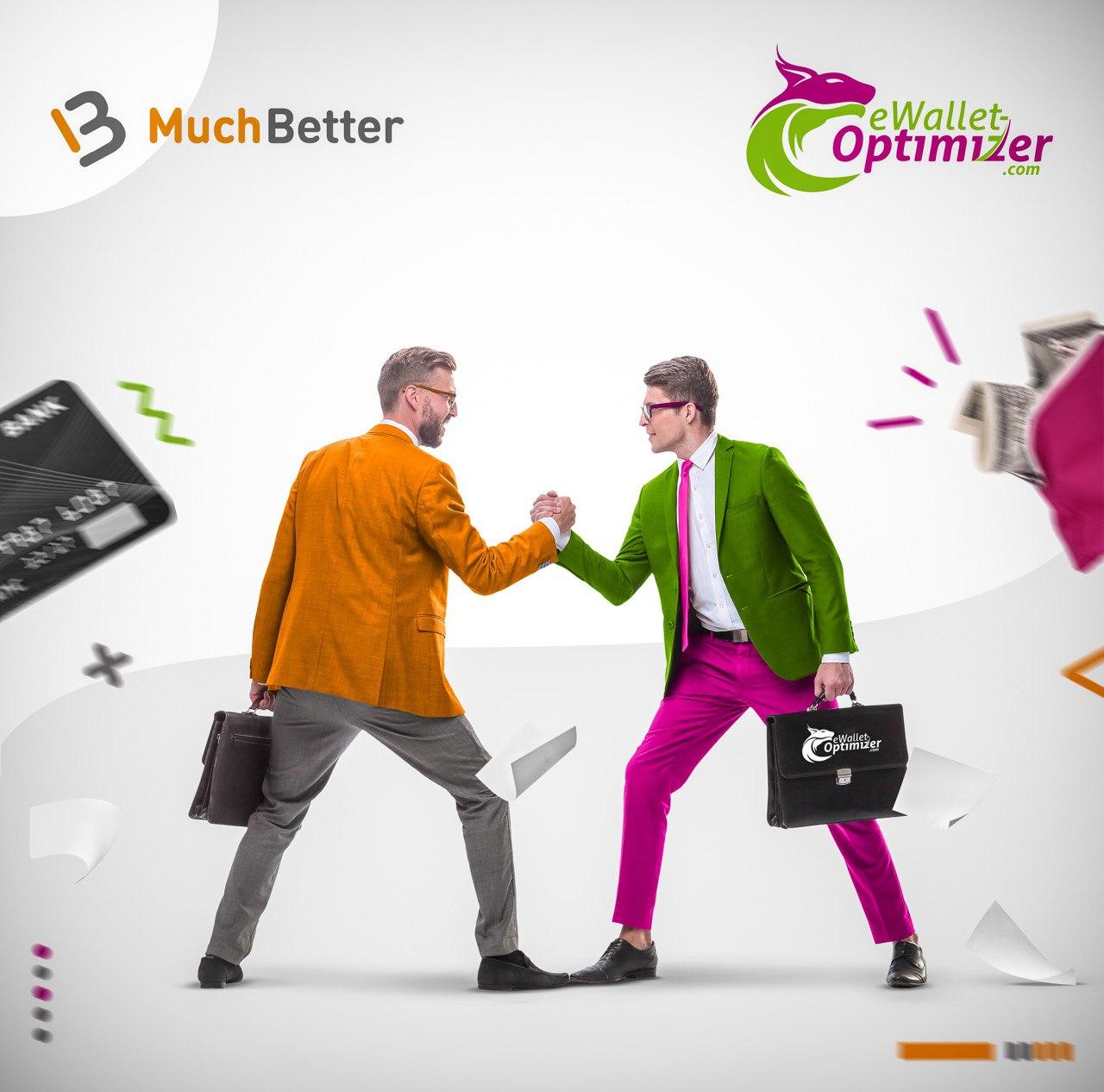 In case you do not have a MuchBetter affiliate link, please use the following guide to easily create it:
Sign up your MuchBetter account with our link.
Go to the MuchBetter app and choose the section Refer a Friend and copy-paste your link.
Wait for our approval before referring.
Currently, the commission payment is 0.75% of the net-deposit amount of deposits per account per merchant. Plus any promo % for June as above.
Net-deposits mean that if a user you referred deposits 50,000 EUR at the beginning of a month, and withdraws 10,000 EUR at the end of the month, you will receive 0.75% of the remaining net-amount of 40,000 EUR in this example.
So 0.75% of 40,000 EUR = 300 EUR.
Please note that this is calculated per user and merchant per calendar month.
So if your referral A deposits 50,000 EUR at Merchant X, withdrawal 10,000 EUR later the month from that Merchant X, and deposits 20,000 EUR to another Merchant Y, the net-deposit amount is (50,000 EUR – 10,000 EUR) + 20,000 EUR.
Also, the Net-deposit amount per merchant can never be smaller than 0. So you earn for all the activities of all your referrals.

ecoPayz June Promotion – 1% Bonus for all
June is also coming with a great eWO ecoPayz Promotion!
All our partners and clients will earn 1% ecoPayz eWO Bonus & eWO Commission for all transfers done from 1st to 30th of June.
Plus any % you reach from the ecoPayz & MuchBetter Registration promo above.
So you can earn up to 1.3% for your ecoPayz referrals in June.
There is no limit to the amount you can earn and no merchant excluded.
We are sure that this will really boost your earnings for June and help to make it through the difficult times right now.

Change your eWO Payment account
eWO payments can only be processed through an ecoPayz or MuchBetter account for now.
Therefore it is important to change your payment account to avoid any delay in commission payments.
To change your payment method, please follow this quick guide:
Login to your eWO Dashboard.
Go to your payments page.
Check the inbox from your previous email account. You will receive a confirmation link and need to click the link in this mail.
(Make sure that you are logged in to your eWO account when you click the link.)
The payment address will be changed and you see a confirmation notification in your eWO Dashboard.
If you run into any issues, please let us know.
Get FREE benefits for your new or existing eWallet!

Regular Customers:
Upcoming popular eWallet Provider.
Overall great conditions.
No fees for money transfers.
No additional cashback.
eWO Clients:

Highest MuchBetter Limits.
0.75% Cashback every month.
eWO Loyalty Program.
Weekly Commission Payments.
Personal eWO Live Chat Support.
Easier verification process.